Assala'mualaikum😀
Bikin artikel lagi yaaa tapi artikel sedih hehe😦
Bagi yg demen nonton bola, pada tau kan nih Daniel Sturridge pemain Chelsea bernomor punggung 23? Tapi… Itu dulu di stamford bridge!! Sekarang dia udh move on ke Liverpool😦
Sturridge dibeli sama the reds dengan harga £12 juta , sekarang dia udh resmi gabung ama the reds, dan di liverpool dia bakal pake nomor punggung 15, sama kyk nomor blog ane yah
, Sturridge nyetujuin on a long-term contract atau kontrak berjangka waktu panjang, gatau sih brp tahun, biasanya 3 – 5 tahun atau lebih CMIIW (soalnya di football manager gitu)
"I am humbled and happy to be here," said Sturridge
"Saya merasa terhormat dan senang bisa berada di sini," kata Sturridge
"Brendan Rodgers said he sees me here for a long time – and I also see myself here for a long time. I've not signed here to play for a couple of years and then move on.
"Brendan Rodgers bilang dia memandang saya akan berada di sini untuk waktu lama, dan saya pun demikian. Saya tidak menandatangani kontrak hanya untuk bermain selama beberapa tahun kemudian pergi lagi." (kyknya nyindir Chelsea yah._.)
"I've signed to be here for as long as possible. It's a humongous club – for me, one of the biggest in the world – and to have the fans and world-class players we have here is amazing."
"Saya bergabung ke sini untuk membela tim selama mungkin. Ini adalah klub menakjubkan, dan bagi saya, salah satu yang terbesar di dunia, dan luar biasa rasanya menilik fans dan pemain-pemain kelas dunia yang kami punyai di sini,"
Selama di Chelsea, Sturridge dimainin selama 49 kali (tanggung amat yak) trs nyetak 24 gol. Ya semoga aja di Liverpool dia lebih produktif lagi dalam nyetak gol
Gol penting sturridge yg ane inget sih di Capital One pas lawan MU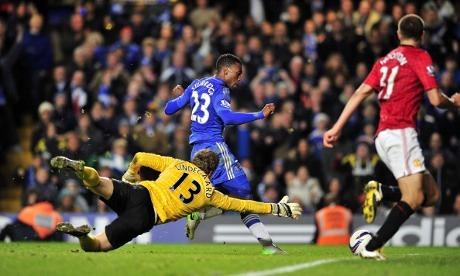 Merasa keilangan juga sih ane, soalnya striker ini yg umurnya 23 tahun (masih muda yah) sebenernya bagus, cuma sayangnya maruk trs jarang dimaenin lagi.
Btw ane ada nih Sturridge di tim Football Manager 2012 ane wehehe iseng aja aah silahkan diliaat
Ane beli dari Chelsea harganya £5 juta, dia mau gabung garagara dia udh gabetah diChelsea garagara jarang dimainin wekek sama aja kyk benerannya. Dari 15 kali main dia nyetak 26 gol terus 6 assist sama 5 kali jadi Man Of the Match , wiih mantep deh hehe
Okedeh sekian dari artikel ini😀 selamat malaaam eh selamat dini harii
Sumber :
http://www1.skysports.com/football/news/11668/8377266/?utm_source=twitterfeed&utm_medium=twitter
http://www.goal.com/id-ID/news/784/transfer-pemain/2013/01/02/3643224/resmi-daniel-sturridge-berseragam-liverpool